You are here:
Home
> Science Exchange Awards Dinner
Science Exchange Awards Dinner
Recognising the significant impact and contribution our researchers and project teams make in developing scientific solutions to plant biosecurity issues, the Science Exchange Organising Committee decided that these should be acknowledged at a formal dinner during the event.
A 'wedding style' dinner seating plan was adopted where all guests were allocated to a particular table. The rationale was to enhance the collaboration and networking opportunities among all delegates. Most people seemed to enjoy this as novel way of meeting new people from across the CRC and industry.
To kick start the dinner and encourage people on tables to mingle, a short trivia quiz was enthusiastically conducted by Research Leader, Dr David Eagling who tested guests knowledge with questions ranging from general trivia right through to biosecurity.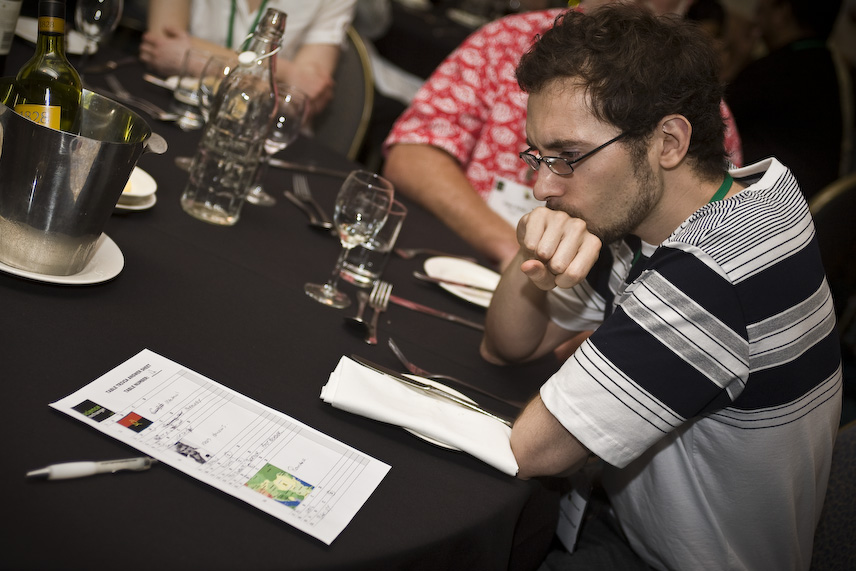 Dr Jean-Philippe Aurambout deep in thought
The Science Exchange Awards Dinner was hosted by Chairman Professor John Lovett, who invited David back to the stage as Chair of the Science Committee to present the Science Committee Awards.
Nominations for the Science Committee Awards formed part of the agenda at the Science Committees' August face-to-face meeting in Perth. With four key areas eligible to be nominated for awards – Highest Impact Factor Publication, Collaboration, Innovation and Impact on Industry, the Science Committee had their work cut out for them.

During the nominations for the Collaboration Award, the Science Committee decided to split this award into three separate awards; recognising the various avenues that collaboration in a research project can take. This one award then became Student Collaboration Award, International Collaboration Award and Research Project Award.
The first award for the evening was the Highest Impact Factor Publication Award which was presented to the project that published in the highest impact journal during the last two financial years, with acknowledgment of the CRC in the author affiliations. The winner of this award was project CRC40006: Russian Wheat Aphid for publishing, 'A protein from the salivary glands of the pea aphid, Acyrthosiphon pisum, is essential in feeding on a host plant' in the Proceedings of the National Academy of Sciences, USA. You can read more about this award winning project in a recent media release 'Gene search into the secrets of a super-bug crop destroyer'.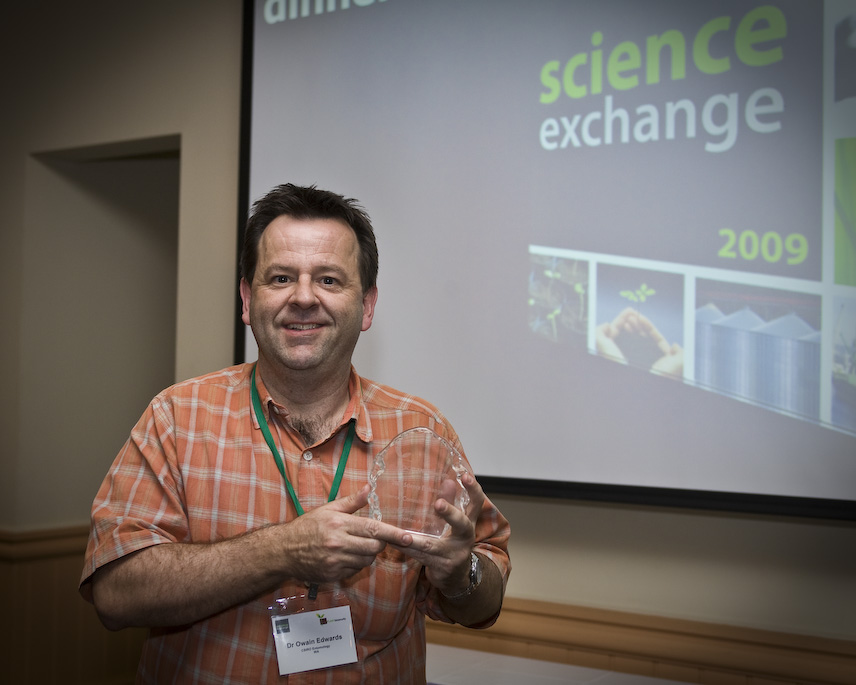 Dr Owain Edwards collects the Highest Impact Factor Publication Award on behalf of the
CRC40006: Russian Wheat Aphid project team
The second award for the evening was not one, but the three collaboration awards which were presented to project teams who have displayed exemplary proficiency in the key tenet of the CRC; cooperation. These awards are exceptionally important to our research as they represent what can be achieved through effective collaboration and knowledge exchange.
The winners of the awards were:
Student Collaboration Award went to a very dedicated PhD student, Ms Bobbie Hitchcock who is clarifying the taxonomy of the light brown apple moth group – Revision of the genus Epiphyas. Bobbie was chosen because of the approach she has taken in establishing herself and positioning herself to be able to provide advice to international collaborators as well as staff within Australian National Insect Collection.
The Research Project Collaboration Award was awarded to project CRC10010: Enhanced Risk Analysis Tools, led by CSIRO's Dr David Cook. Throughout their project, this team has worked closely with CSIRO, industry, Plant Health Australia and Department of Agriculture Fisheries and Forestry and consulted extensively with these key organisations to develop a tool that industry was able to use. This was done in a structured, open and transparent manner between a range of competing priorities.

Dr David Cook accepting the Research Project Collaboration Award
on behalf of CRC10010: Enhanced Risk Analysis Tools project
Demonstrating commitment to international collaboration, Project Leader, Dr Gary Kong from Queensland Primary Industries and Fisheries collected the International Collaboration Award on behalf of two of his project teams. The first project is CRC27012: National Diagnostic Database which includes Phase 2 activities of both the Remote Microscope Network and the Plant Biosecurity Toolbox, while the second project is CRC20093: Increasing Diagnostic Capacity in Thailand. Both project teams have shown outstanding rapport in building and nurturing collaborative groups within Australia and then network these to international linkages to benefit national and international biosecurity.
The Innovation Award recognises creative and innovative thinking applying new research techniques to plant biosecurity and originality in method application. These techniques may be entirely novel or existing ideas that are being applied in a plant biosecurity context for the first time. The Innovation Award was presented to project CRC20081: Biosensor-based Detection of Grain Pests, which is looking at novel biosensor-based technology to detect insect pests in stored grain.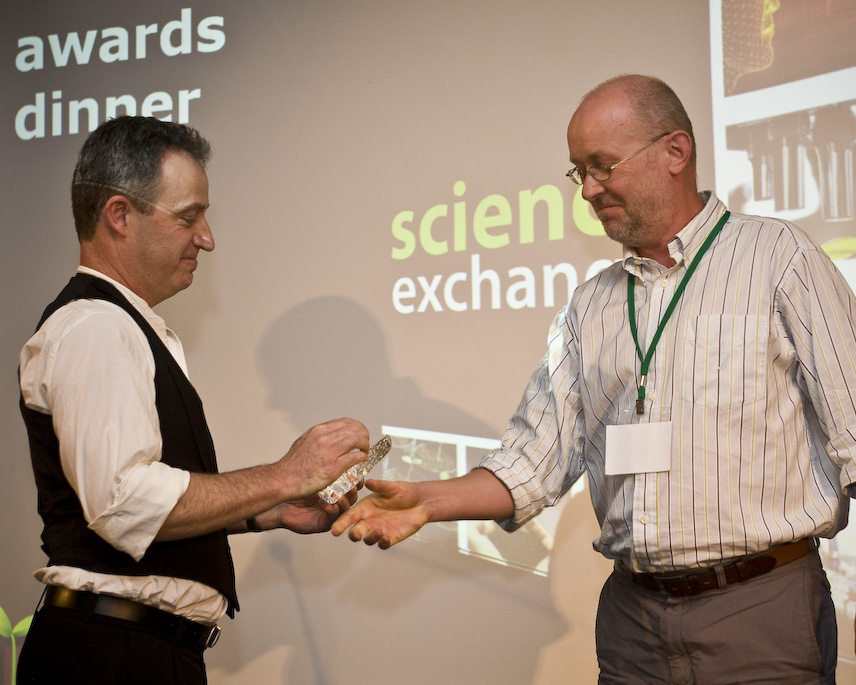 Dr Sylwester Chyb accepting the Innovation Award on behalf of the
CRC20081: Biosensor-based Detection of Grain Pests project team
This project is an outstanding example of innovation, bringing together a range of new approaches to deliver short term goals, combined with the prospect of novel applications in the longer term. It will exploit the newly-generated sequence data from Tribolium castaneum, the red flour beetle, to identify genes for the olfactory receptors, proteins with exquisite sensitivity for insect pheromones.
Other nominations for this award included:
Project teams for the Impact on Industry Award were nominated for their influence on how industry conducts its business. The award recognised scientific outcomes that have caused a positive change in practice at the industry level. The Impact on Industry Award highlights the need to engage industry throughout the entire research pipeline; from inception, development and then through the implementation.
The winner for this award was the project team from CRC30084: Biosecurity Quarantine Model System. This project team designed an integrated surveillance system for invertebrates, vertebrates and plants for the Gorgon gas project on Barrow Island. The design was developed to detect non-indigenous species on Barrow Island with an 80 percent statistical power. The design methodology developed by the QUT project team has been recognised both nationally and internationally and the CRC are now investigating how the design can now be further applied within an agricultural context.
Other nominations for this award included:
• CRC40136: Insect Eradication Strategies (Phase 2)
• CRC50098: Fumigation Protocols for Flat Grain Beetle , and
• CRC10071: Climate Change
After dessert was served, Professor John Lovett introduced Board Director, Professor John Irwin to announce the winners of the Board nominated poster awards and the People's Choice Award.
As education activities have been important throughout John Irwin's career (being principal supervisor to over 30 graduated Masters and PhD students at the University of Queensland, and teaching undergraduate classes in several areas of plant science) it was only fitting to start off with announcing the recipient of the Best Student Poster Award – Mr Alistair McTaggart. Alistair's poster was titled 'A stable and communicable classification of smut'. The Best Scientific Poster Award was presented to Dr Mark Sosnowski for his poster titled 'Eradication of Elsinoe ampelina by burning infected grapevine material.'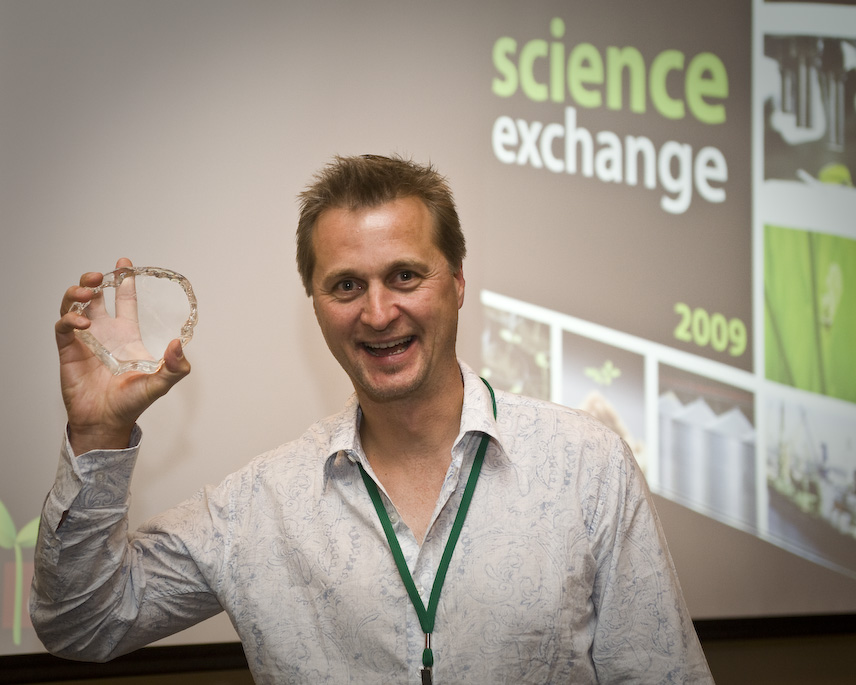 Dr Mark Sosnowski was excited to receive the award for Best Scientific Poster
While the Board were impressed with the overall quality of all posters presented throughout the Science Exchange, both Alistair and Mark were nominated for their ability to communicate scientific research through visual design and being able to engage with the Directors by answering questions about their projects.
Board Directors Dr Jim Cullen and Professor John Irwin discuss posters
The final award for the evening was presented to PhD candidate Ms Rachel Powney for the People's Choice Award for best poster. Rachel's poster was titled 'Bacterial populations colonising fire blight susceptible host plants in Australia and their role in fire blight research'.
The evening wrapped up with the winning table of the trivia quiz being announced, which was a table hosted by Diagnostics Program Leader, Dr Deb Hailstones. They were neck-to-neck with another table, but gained a bonus point for correctly including the 'HMS' when naming Charles Darwin's ship which he set sail on in his voyage around the world in 1831 – HMS Beagle.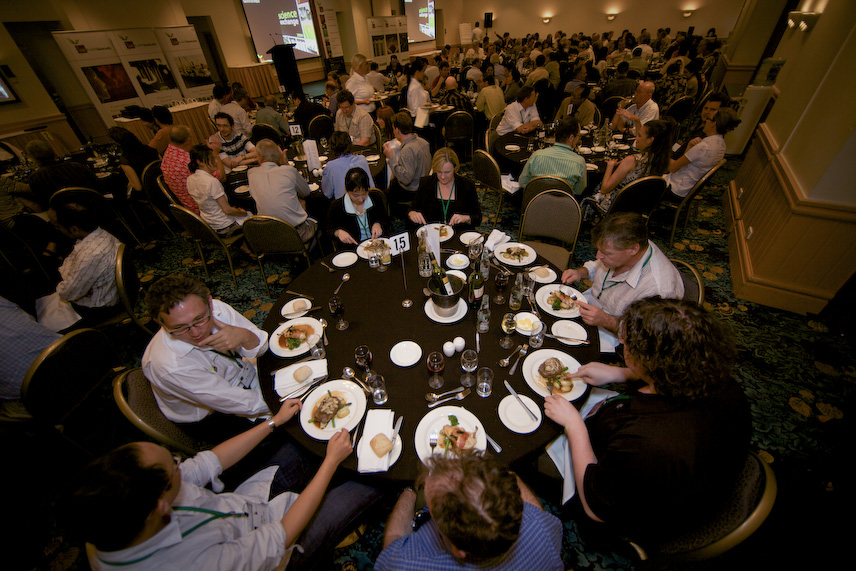 Photographs by Di Harris Photographic for full Science Exchange album CLICK HERE