You are here:
Home
> From storage to export: learning about the grain supply chain
From storage to export: learning about the grain supply chain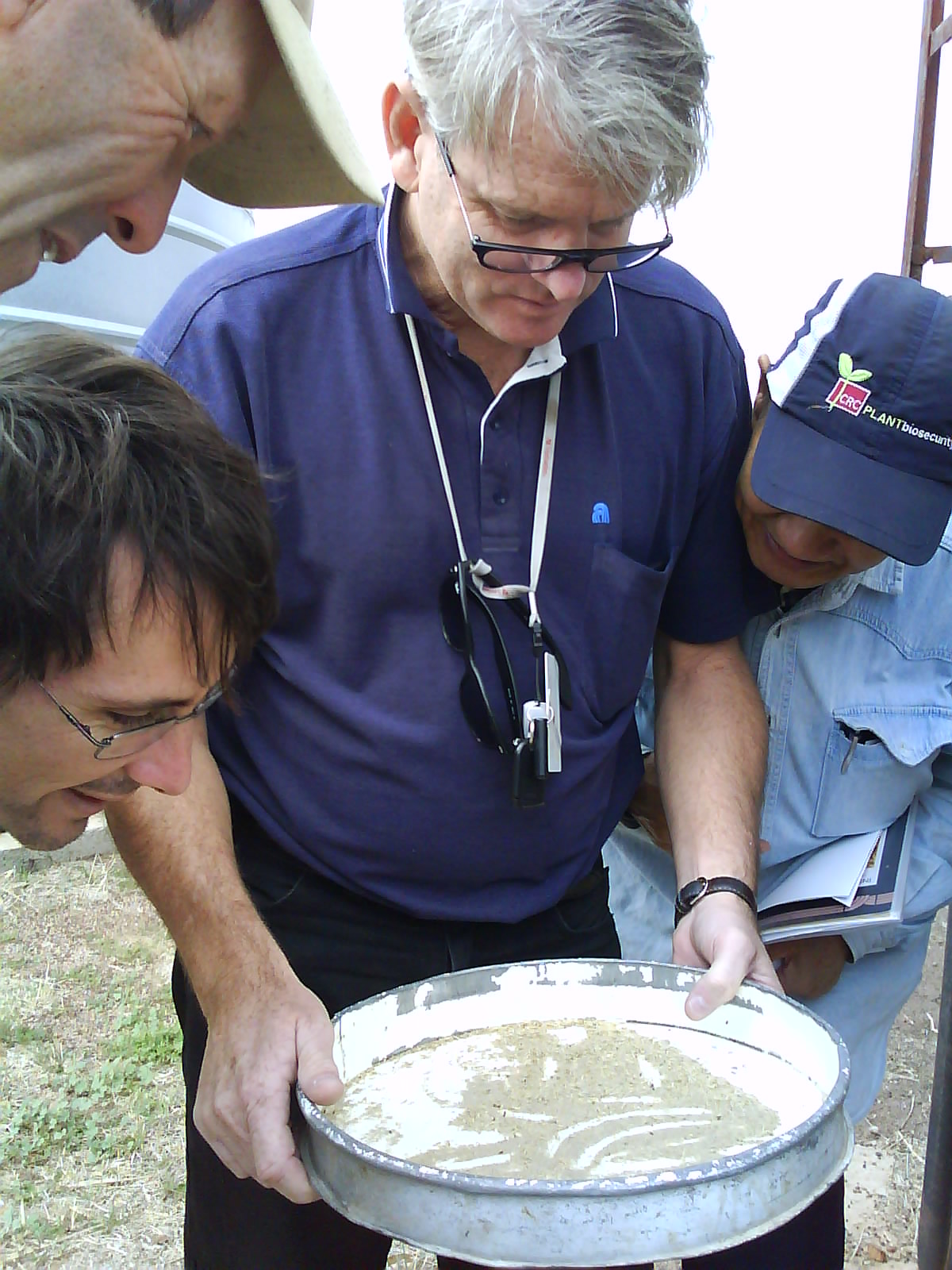 In mid-May, scientists from the University of Western Australia (UWA) and the Department of Agriculture and Food, Western Australia (DAFWA) travelled on a field trip to Western Australia's farm grain storages in Northam and export facilities at York and Forrestfield.
The trip was organised by entomologists Maria Majer and Rob Emery. Maria works on the CRCNPB project titled Surveillance platform technology for predicting spread of EPPs. She works along with a research fellow from the School of Computer Science and Software Engineering of the University of Western Australia, providing biological information necessary for the simulation models. Rob Emery is a senior entomologist for DAFWA specialising in stored grain.
From DAFWA, four CRCNPB entomology projects were represented through Rob, Maria, Michelle Chami and Chris Newman. The UWA group comprised of PhD candidate, Mingren Shi and modellers Michael Renton, Juan Jose Garcia Adeva and James Bennett who are developing computer simulation models to predict the establishment or spread of invasive plant pests. Mingren and Michelle are both working under the supervision of Rob Emery. Mingren is working on a model for phosphine resistance in grain insects while Michelle is conducting the phosphine resistance testing.
The trip was a great opportunity to be far away from desks and computers on a beautiful sunny day. The group's first stop was Forrestfield where everyone was impressed by the size and hygiene practices of CBH Group Metro Grain Centre facilities. Phil Taylor from CBH explained how his colleagues are working with growers to protect Western Australia's international reputation for high quality grain.
From Forrestfield, the group continued to Northam to visit farm silos where Chris Newman outlined the importance of properly sealed silos to allow for effective fumigation. Rob Emery briefed the group on phosphine fumigation and the problem of insect pests of grain storage evolving phosphine resistance.
The insects observed on the day were the rust red flour beetle (Tribolium castaneum), the saw toothed grain beetle (Oryzaephilus surinamensis) and some beetle larvae.
The group continued the field day at the CBH York grain receival point where they continued to explore the facilities and equipment such as conveyor loading system, the bulk storage capacity, handling and transport system. Chris Newman and Phil Taylor explained how they can handle and store an average of 11 million tonnes of grain each year such as wheat, barley, lupins and canola.
This initiative followed the grain supply chain and was a very positive interaction for members across several CRC projects. Activities such as this demonstrate the benefits of collaborative networks created as part of the CRCNPB.
Photo caption: Rob Emery demonstrates how to sieve insects from stored grain. From (L-R) Chris Newman, Michael Renton and Mingren Shi look on.
Content and image supplied by: Maria Majer