CRC60003: Ascochyta Wind Tunnel - PhD
This project developed an understanding of how biotic factors affect the dispersal of rain-splashed asexual spores (conidia) and wind-borne sexual spores (ascospores).
What is the biosecurity problem?
Once an exotic fungal pest has been introduced to a new area (such as via seed or soil) establishment and further spread are influenced largely by the spore dispersal pattern. Long-distance dispersal via wind-borne spores is a common feature of fungal pests, as is short-distance dispersal via rain-splash of spores. Studies that identify the link between environmental factors and spore dispersal can assist in assessing the potential disease risk for agrogeographical zones. Ascochyta species of pulse crops are already within Australia and have rain-splashed asexual spores (conidia) and wind-borne sexual spores (ascospores). These fungi provide an opportunity to study the relationship between the environment and spore dispersal, and to develop risk assessment strategies for exotic pests with similar spore dispersal patterns.
The main outputs of this project were to:
identify key factors influencing the short-distance (rain-splashed) and long-distance (wind-borne) distribution of spores of exotic foliar pests of annual field crops, using Ascochyta blight as a model.
determine effect of rainfall, temperature, wind, landscape and host susceptibility on spread of conidia and disease from artificially-inoculated plants placed in crop
Use controlled conditions to determine the effect of rain and wind on spore dispersal for pests that spread via rain-splash or wind, and
identify potential disease risk for different agroecological zones.
Who will be the end-users of this research?
This project produced a new PhD graduate trained in Plant Pathology, with specific skills in plant disease epidemiology. The graduate was available for immediate employment within the Biosecurity industry, increasing Australia's capability to respond to disease outbreaks
STUDENT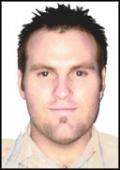 Mr Steven Coventry
Student CRC60003: Ascochyta Wind Tunnel - PhD
steven.coventry@adelaide.edu.au
Phone:
08 8303 7259
Fax:
08 8303 7109
Read More
PROJECT DETAILS
Status
Complete
Supervisor
Dr Eileen Scott (UOA) and Dr Jenny Davidson (SARDI)
Supervising Institution
La Trobe University
Term
March 2006 - March 2009
LOCATION