CRC60040: Luteovirus - PhD
This project will increase our understanding of the Luteoviruses that threaten the Australian pulse industry and provide improved tools to pulse breeders for the generation of robust resistance traits in new breeding lines.
What is the biosecurity problem?
Luteoviridae viruses cause economically important diseases of pulses worldwide, in some instances resulting in up to 95% crop losses. In northern New South Wales, diseases associated with Bean Leafroll Virus (BLRV) are widespread, causing significant crop losses on an annual basis. Some of the most destructive and significant yield losses occur in the central west Asia and north African (CWANA) region.
Current pulse breeding programs in Australia include the development of resistance genes to Luteoviruses such as BLRV. This strategy is presently compromised due to poorly characterised virus isolates and the emergence of new, uncharacterised Luteoviruses in the CWANA region that infect pulse crops. These newly emergent viruses pose considerable risks to current disease resistance strategies; due to the unclear nature with which harmful pests and diseases interact with existing virus resistance genes used in pulse breeding programs. Diagnostic techniques which fail to detect these key viral plant pathogens, or which generate ambiguous test results, have important consequences for international virus resistance breeding programs.
The outputs of this project are to:
Provide an internationally recognised protocol for definitive identification of Luteovirids, strengthening international collaborative resistant germplasm breeding programs.
Who will be the end-user of this research?
Plant virus researchers, quarantine, plant virus diagnostic laboratories and virus resistant germplasm breeding programs.
STUDENT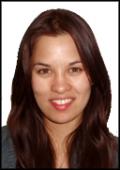 Miss Mai Hlaing Loh
Student CRC60040: Luteovirus - PhD
maihlaing_loh@yahoo.com
Fax:
03 9800 3521
Read More
PROJECT DETAILS
Status
Active
Supervisor
Dr Brendan Rodoni (Department of Primary Industries, Victoria) and Dr Rebecca Ford (University of Melbourne)
Supervising Institution
Department of Primary Industries Knoxfield
Term
March 2007 – March 2010
LOCATION