Geering
Andrew Geering graduated with a BSc. Agric. (Hons I) in 1987 from The University of Sydney and a PhD in 1992 from The University of Adelaide.  He has worked in the plant virology group of the Department of Primary Industries and Fisheries, Queensland, since 1993, where much of his research has focused on the control of viral diseases of tropical horticultural crops such as banana and pineapple.
A major focus of Andrew's present work is the development of new diagnostic techniques, particularly the use of nanosensors for pathogen detection. Andrew is chair of the Caulimoviridae Study Group of the International Committee on the Taxonomy of Viruses and from 2000-2006, was senior editor of Australasian Plant Pathology.
Andrew is also a keen amateur ornithologist and edited and co-authored the book Shorebirds of Australia, which was published in June 2007 and judged best book in the category of field guide in the 2008 Whitley Awards.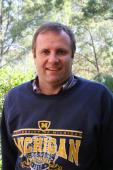 andrew.geering@deedi.qld.gov.au
Phone
: 07 3896 9353
Fax
: 07 3896 9533
LOCATION