Hammond
Nichole Hammond started her PhD in January 2007 she was the CRC's first female PhD student.
The PhD continues her studies at Murdoch University where she successfully completed a Bachelor of Science in Biotechnology and also an Honours project (Biological Sciences) on the characterisation of Rhizoctonia solani isolates collected from potato crops in Western Australia using anastomosis groupings, pectic isozyme groupings and polymorphisim of the ITS region of the rDNA.
"I was attracted to the CRCNPB's focus on plant biosecurity and interest in trying innovative approaches to solving problems faced in plant biosecurity," she says.
"The CRC provides greater opportunities to network with other researchers working in plant biosecurity, other biosecurity areas and specialist fields nationally and internationally."
Nichole has worked for the Western Australian Department of Agriculture and Food for the past eight and a half years in a number of biosecurity related fields within the plant pathology section, including diagnostics, surveillance and plant health policy.
Nicole enjoys living in Perth and likes the good climate especially the mild winters. Western Australia has diverse agricultural and horticultural industries that make working here interesting she says.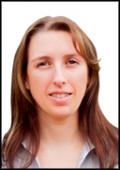 N.Hammond@murdoch.edu.au
Phone
: 08 9360 6124
Fax
: (08) 9310 4144
LOCATION