CRC60123: Genetic resistance in stored-grain beetles (Hons)
This project will provide a mathematical framework from which future management strategies on phosphine fumigation of Rhyzopertha dominica can be derived, with consideration of the species' increasing genetic resistance to phosphine.
What is the biosecurity problem?
Phosphine resistance of Rhyzopertha dominica
(Coleoptera: Bostrichidae).
The outputs of this project are to:
develop an understanding of the significance of the differences between resistance occurring on one gene compared to two genes for the emergence of resistance
develop a preliminary software tool for assessing different fumigation strategies, and
train an honours student in insecticide resistance modelling in the postharvest system, with the view to developing the skills necessary to do a PhD in this area.
Who will be the end-user of this research?
Bulk handlers are the major end uses of the project, although any stakeholder that stores grain will benefit from the research developed in the project. Stored product researches will also benefit from insights delivered by the project.
STUDENT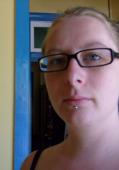 Kym Lilford
Student CRC60123: Genetic resistance in stored-grain beetles (Hons)
Read More
PROJECT DETAILS
Status
Complete
Supervisor
Dr Glenn Fulford (QUT), Dr Andrew Ridley (DPI&F), Dr David Schlipalius (DPI&F)
Supervising Institution
Queensland University of Technology
Term
July 2008 – July 2009
LOCATION