You are here:
Home
> International Master Class in Plant Biosecurity
International Master Class in Plant Biosecurity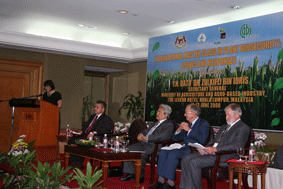 In early June, 17 participants from 10 countries took part in a two-week International Master Class in Plant Biosecurity, supported by The ATSE Crawford Fund, in Kuala Lumpur, Malaysia.
The Crawford Fund has a substantial record of promoting Master Classes in subjects related to agriculture, involving participants of proven expertise in specific topics together with peers and presenters from a number of countries.  Some Master Classes have been held in Australia.  Others, where another location offers advantages, have been held offshore.  Plant biosecurity was deemed to be an excellent example of a topic best dealt with 'pre-border', in Australian terms.  
The Crawford Fund was partnered by CABI (South-East Asia), the Cooperative Research Centre for National Plant Biosecurity and the Department of Agriculture and Agro-based Industry (Malaysia).  A feature was the enthusiasm and energy which these four enthusiastic collaborators contributed to the Master Class.  
Invitations to participate were made to ASEAN and other Asian countries of trading significance in the region. The aim of the Master Class was to reach participants who are 'influencers', that is, persons with a scientific and technical background in the disciplines associated with biosecurity and who have the ability to interface with policy makers and regulators in their home countries and, potentially, abroad.   The desired outcomes of the Master Class were threefold, namely, to:
raise awareness of the global significance of the plant biosecurity continuum (pre-border, at border and post-border) with Australia's near neighbours

increase the level of knowledge of risk analysis processes among Australia's neighbours and trading partners, with a view to delivering mutual benefit, and

further develop collaborative links between the Master Class partners and between the partners, the participants and their home countries.
Indicating its importance to the host country, the Master Class was officially opened by Dr Zulkifli Idris, Secretary General of the Ministry of Agriculture and Agro-Based Industry, Malaysia.  Dr Idris was joined by Australia's High Commissioner to Malaysia, Her Excellency Ms Penny Williams.  Both spoke of the benefits to be gained from promoting cooperation among neighbouring countries in dealing with biosecurity issues.  
In his response, Chairman of the Board of the CRCNPB, Professor John Lovett, expressed thanks for the cooperation between the partners which had enabled the Master Class to be held and noted the opportunity which it presented for the participants to begin to develop a biosecurity network.  
Dr Paul Ferrar, Director of The Crawford Fund Master Class program, noted that Master Classes are designed to be interactive.  This was a key element in the intensive program of presentations, practical work, discussion groups and field visits which occupied the succeeding two weeks.  
Presenters were drawn, principally, from CABI and from the CRCNPB.  The latter presentations ranged over the 'big picture' issues of global biosecurity to the 'high tech' end of biosecurity, including a live demonstration of remote microscopy. Presenters from the CRC included, Dr David Eagling, Dr Kirsty Bayliss, Dr Gary Kong, Dr. Darryl Hardie, Dr Kaler Surata, Prof. Ian Falk, Dr Darren Peck and Mrs Amy Carmichael.  
In the closing stages of the Master Class, participants were invited to complete a survey.  Asked to rate the two most useful elements of the Master Class, presentations and discussion groups were favoured over practical work, meeting scientists with similar interests, and field visits - although all were valued.  
Overall, the feedback indicated that the desired outcomes were achieved and several suggestions for specific follow-up activities were identified for further consideration.  CABI, for example, has indicated willingness to partner the CRC for National Plant Biosecurity in some of these opportunities.  
At the Closing Ceremony, John Lovett observed that "On 1 June individuals from 10 different countries gathered in Kuala Lumpur to discuss biosecurity.  On 12 June they leave for home as part of a biosecurity team which has the potential to contribute to improving aspects of biosecurity in the policy and regulatory arenas, as well as in science".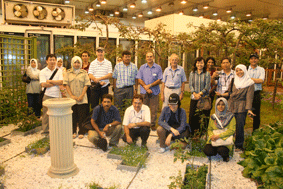 Photos:
Top: Her Excellency, Ms Penny Williams, Australia's High Commissioner to Malaysia addresses the Master Class at the Opening Ceremony.
Bottom: Master Class participants visit a Malaysian greenhouse.