CRC60130: Identification of Effectors in Venturia inaequalis - PhD
This project will identify proteins that are important to the process of infection in Venturia inaequalis, the causative agent of apple scab.
What is the biosecurity problem?
Western Australia is currently thought to be free of Venturia inaequalis however, there is a lack of rapid, effective surveillance methods to confirm this, and a lack of understanding of the infection process.
The main outputs of this project are to:
develop an understanding of the process of infection in Venturia inaequalis; in particular greater understanding of how different races of Venturia inaequalis infect apple, and why some cultivars of apple are resistant to some races, and
use proteins and genes that vary across races or between species (such as Venturia pirina and Venturia nashicola) to provide a basis for surveillance tests that can rapidly and easily distinguish races and species.
Who will be the end-users of your research?
The end users of this project will be researchers in the field of fungal pathology, plant disease resistance, apple breeders and biosecurity agencies.
STUDENT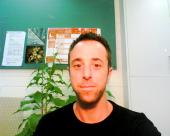 Mr Daniel Jones
Student CRC60130: Identification of Effectors in Venturia inaequalis - PhD
df4jones@students.latrobe.edu.au
Read More
PROJECT DETAILS
Status
Active
Supervisor
Dr Kim Plummer and Dr Anthony Gendall (La Trobe)
Supervising Institution
La Trobe University
Term
April 2009 - April 2012
LOCATION