Fruit Flies of Economic Importance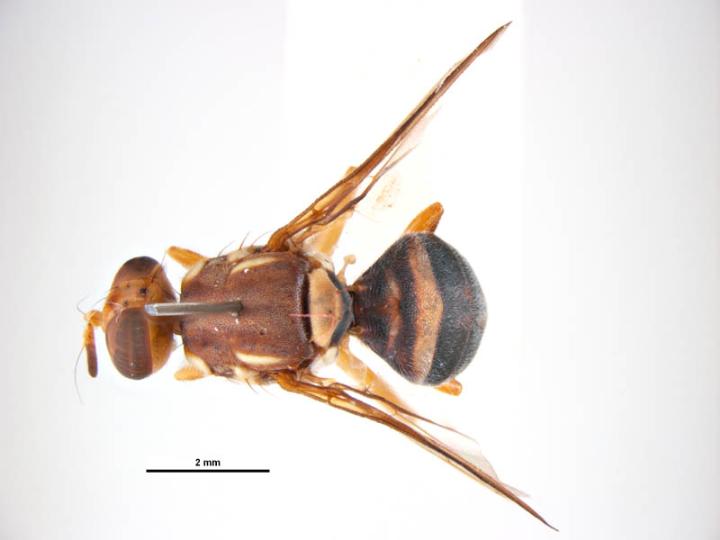 The International Symposiums on Fruit Flies of Economic Importance are the major global fruit fly meetings: held once every four years since 1982. These meetings bring together the international fruit fly research community to present and discuss the latest findings in the field.
Fruit flies cost the Australian economy an estimated $125 million a year. Australia's capacity to trade in domestic and international horticulture markets – valued at $4.8 billion – is challenged by these pests. However, fruit fly is not only a problem in Australia, it is a global issue.
This year's symposium was held in Valencia, Spain, encouraged delegates from all over the world to attend. The 8th International Symposium was held from 26 September – 1 October 2010 and had a biosecurity-focused research agenda which included diagnostics and developments of systems approaches to improve production.
A total of 372 participants representing 58 countries attended the conference. Dr Solomon Balagawi, A/Professor Tony Clarke, Dr Olivia Reynolds and Dr Mark Schutze represented the CRC and their home organisations, presenting results from CRC projects CRC:40088, CRC20115 and CRC60106, as well as other non-CRC funded activities. Through their attendance, the scientists were able to highlight the research being conducted by the CRC to an international audience. It was also an opportunity for them to ensure that Australia is up-to-date with international developments, and to encourage ongoing international collaborations with respect to current and future research projects.
A total of 75 oral presentations and 172 posters was presented in the conference. All presentations were divided into eight broad sections:
Biology, Ecology and Behaviour
Morphology and Taxonomy
Genetics and Evolution
Risk Assessment, Quarantine and Post-harvest treatment
Sterile Insect Technology (SIT) Principles and Applications
Area Wide Management
Natural Enemies and Biocontrol, and
Chemical Ecology, Attractants and Other Control Methods.
The papers presented showed that the general trend in the current fruit fly research is very much inline with the research Australian fruit fly experts are undertaking. However, in Australia some areas of fruit fly research need strengthening and these could be most suitably done using a consolidative research approach between researchers.
A research paper, Spatial and diurnal pattern of protein foraging by Bactrocera tryoni on a host plant, from a study conducted as part of a current CRCNPB project CRC:40088 was presented by Dr Balagawi. The paper demonstrated when and where B. tryoni forage for protein within a tree, thus providing basic scientific knowledge for improved application techniques of protein bait sprays to manage B. tryoni. This paper informed and reiterated the importance of developing robust fruit fly management strategies that are based upon basic scientific knowledge.
Altogether, researchers associated with the CRCNPB presented seven oral papers and posters at the meeting, hence informing international colleagues and institutions of the CRCNPB's strong commitment to fruit fly research.
Photo caption: Queensland Fruit Fly
Photo acknowledgement: PaDIL