Eradication meeting in New Zealand
PhD candidate Bobbie Hitchcock travelled to New Zealand in February 2008, to attend a meeting with team members from CRCNPB Project 40024, "Eradication Strategies involving the model species Epiphyas postvittana", hosted by Dr. Max Suckling and held at HortResearch in Lincoln.
Bobbie presented an overview of the current state of knowledge regarding Epiphyas postvittana and its relatives from her CRCNPB PhD project "Clarifying the taxonomy of the light brown apple moth group - Revision of the genus Epiphyas".
The need for a comprehensive taxonomic study of the genus Epiphyas has been widely acknowledged by entomologists involved in the control of E. postvittana and one of the major aims of the revision is to provide a phylogenetic context for the Australian light brown apple moth - Epiphyas postvittana - which is an indigenous horticultural pest in Australia and a serious introduced pest in New Zealand, Hawaii, the United Kingdom and, more recently, parts of the United States.
The meeting enabled valuable exchanges between the projects and people involved and has led to an Epiphyas collecting trip to the south west of Western Australia during April 2008, with Bobbie accompanied for part of the time by Bill Woods. There were also opportunities to meet other researchers working in complimentary areas within the CRCNPB and at HortResearch and the Ministry of Agriculture and Forestry in New Zealand and to view the facilities and larval rearing techniques in use at HortResearch in Lincoln. The next group meeting will be held in Melbourne in August 2008.
Bobbie is supervised by Dr. Marianne Horak at the Australian National Insect Collection (CSIRO Entomology, Canberra) and Dr. Andrew Mitchell at the DPI, New South Wales (Wagga Wagga). Her supervisors in the Department of Botany and Zoology at the Australian National University, Canberra, are Professor Mike Crisp and Dr. John Trueman.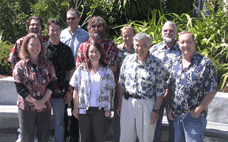 Back: Ian Lacey (DAFWA, Perth); Greg Baker (SARDI, Adelaide).
Middle: Max Suckling (HortResearch, Lincoln); Bill Woods (DAFWA, Perth); Lloyd Stringer (HortResearch, Lincoln); Dave Williams (DPI Tatura, Victoria). Front: Bobbie Hitchcock (CSIRO Entomology, Canberra); Nicola White (HortResearch, Lincoln); Eric Jang and Don McInnis (both USDA Agriculture Research Service, Hawaii).
TRAVEL DETAILS
Researcher
HITCHCOCKB
When: February 2008
Location: Lincoln, New Zealand
Summary:
LOCATION