You are here:
Home
>
Travel reports
> Experts Meeting Global Invasive Species Information Network
Experts Meeting Global Invasive Species Information Network
The Global Invasive Species Information Network (GISIN) is a web-based network of data providers including government, non-government, non-profit, educational, and other organisations that have agreed to work together to provide increased access to data and information on invasive alien species (IAS) around the world.
The GISIN is building an information network for sharing and exchange of invasive species data, information, knowledge, and related metadata. The network aims to connect, through a distributed approach, as many existing and new invasive species information systems as possible, by promoting common standards, protocols, and services designed to achieve connectivity.
Rob Emery has been involved with GISIN since its formation in 2004 and in 2005 the Invasive Alien Species Profile Schema (IAS-PS) was created and posted for public comment.
The purpose of the meeting in Morocco was to examine and refine the IAS-PS in detail and to consider reviewer comments.
Rob demonstrated the Plant Health Australia Pest Threat Questionnaire to show Australia's approach for ranking threats and the Pest Host Database which identified several elements that needed to be added to the GISIN schema.  Hosts had not really been considered previously but will be added.  Rob also provided an agricultural and entomological bent to the meeting that was previously missing and pointed out that we need to share information about more than just invasive species because many pests are not considered invasive in their native country.
The key outcomes of the GISIN experts meeting were the  development of standard computer-based mechanisms for expressing and transferring information about invasive species, including taxonomies, distributions, terminologies, descriptions, identification tools, pathways, invasiveness, management information, and associated resources. These mechanisms will be used by the Taxonomic Databases Working Group, GISIN, and the global invasive species science community in general.  
The development and global sharing of Invasive Species Profiles will increase our knowledge of what species are potential threats before they arrive in Australia.
By being involved in GISIN, Australia (through the CRCNPB)  will be on the front foot in ensuring that the shared species profiles contains the information we need.
Relevant websites: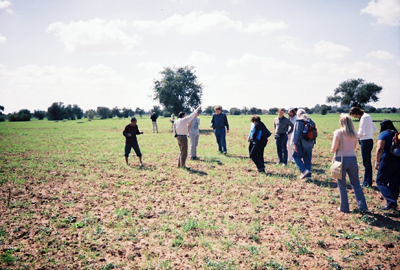 Traditional Morrocan farmer (far left) shows the GISIN group an infestaton of the weed, silverleaf solanum, (Solanum elianium) which has caused problems in wheat paddocks following introduction about 30 years ago.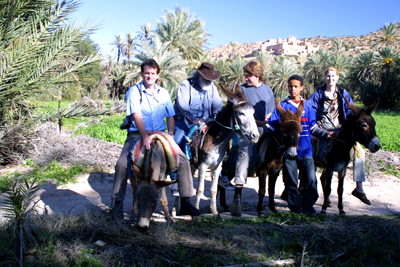 From left Rob Emery, Bob Morris (University of Massachusetts), Kevin Thiele (University of Queensland), Moroccan guide and Liz Sellers (United States Geological Survey) at an oasis and Kasbah near Tiout, 100 km east of Agadir.
TRAVEL DETAILS
Researcher
EMERYR
When: 2006 - February
Location: Agadir, Morocco
Summary:
Rob Emery, Project Leader of PDA-Assisted Surveillance, travelled to Agadir in Morocco to attend the GISIN experts meeting in February 2006.
LOCATION