You are here:
Home
>
Travel reports
> United States Department of Agriculture Collaboration
United States Department of Agriculture Collaboration
Dr Dean Paini travelled to North Carolina where he met Dr Roger Margarey from North Carolina University and United States Department of Agriculture (USDA) – Animal and Plant Health Inspection Service (APHIS), Dr Karl Suiter from the National Science Foundation (NSF) – Center for Integrated Pest Management (CIPM) and Professor Matt Thomas of Penn State University.
Throughout the meeting all parties showed great interest in working together and developing future collaborations. After an in-depth discussion, it was decided the group would pursue an application for funding with the Agriculture and Food Research Initiative Program, which is part of USDA – Cooperative State Research, Education, and Extension services. The proposal will analyse the data found in the Global Pest and Disease Database maintained by CIPM using artificial neural network methodology to generate invasive species risk lists for the United States. In addition, the group propose to develop software that will allow biosecurity agencies to generate their own list of risk species.
If this collaboration is successful, it will continue to build the international profile of the CRCNPB and enhance its research credentials both domestically and internationally. Once this collaboration is established, further long-term collaborations regarding other aspects of biosecurity will follow.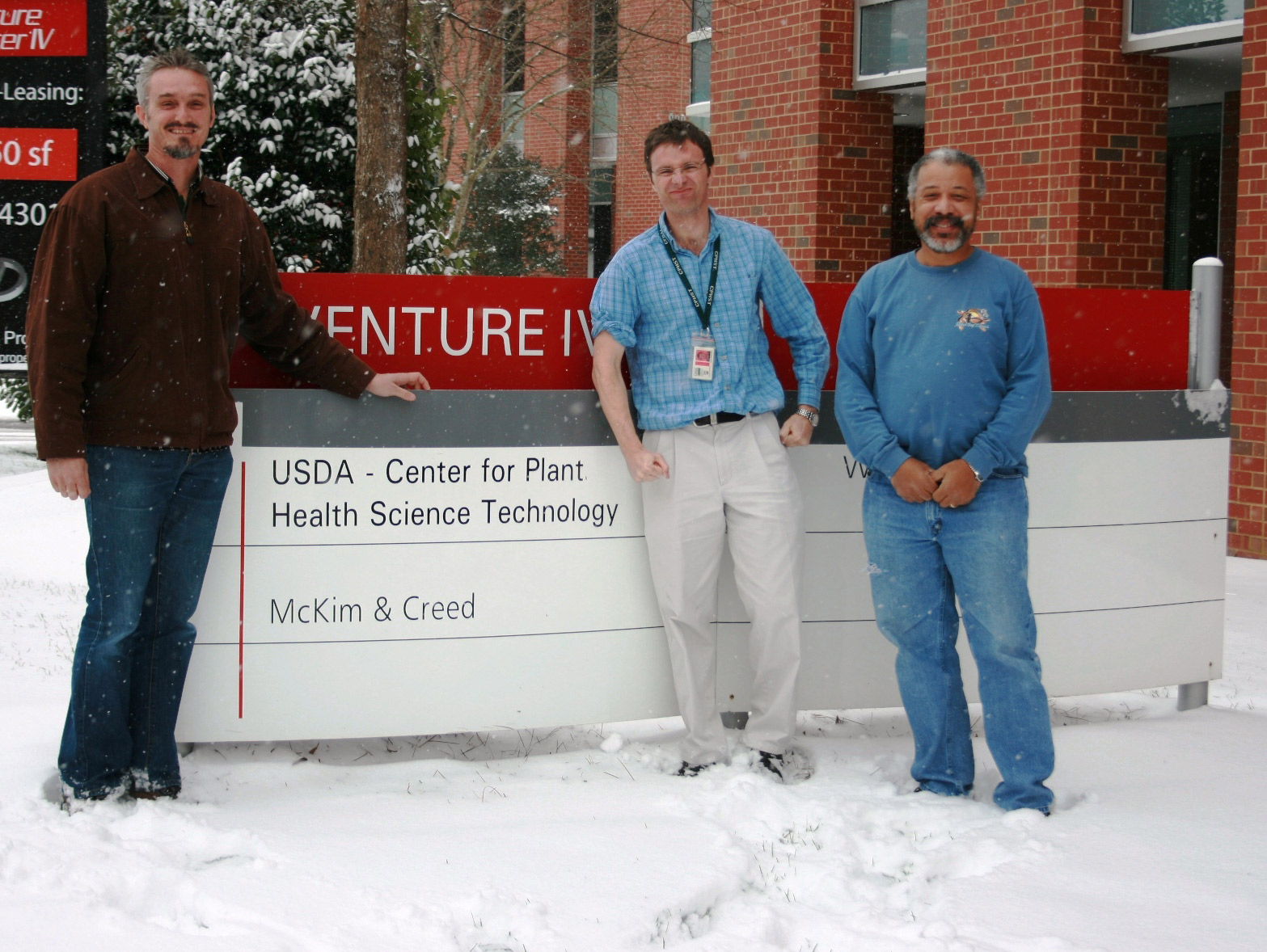 Dr Dean Paini, Dr Roger Magarey, and Dr Karl Suiter at the USDA Center for Plant Health Science Technology in Raleigh, North Carolina.
TRAVEL DETAILS
Researcher
PAINID
When: January 2009
Location: North Carolina, USA
Summary:
Dr Dean Paini shared information and developed collaborative relationships with representatives from USDA while in North Carolina earlier this year.
LOCATION