CRC50098: Fumigation Protocols for Flat Grain Beetles
Flat grain beetle (FGB) is a major emergency plant pest (EPP) of stored grain in Australia. Populations of FGB have recently developed high level resistance to phosphine (the only viable fumigant available for non-quarantine use) resulting in control failures with current dosage regimes.
As there is no practical alternative to phosphine, failure to control FGB with phosphine places at risk market access for Australian grain worth up to $7 billion in annual trade. Therefore there is an urgent need to develop appropriate phosphine fumigation protocols to eradicate outbreaks of strongly resistant FGB.
Research outcomes:
Characterisation of high resistance to phosphine in flat grain beetles (FGB) for the first time internationally.
Establishment of fumigation protocols and an eradication strategy that will enable industry to eradicate infestations of phosphine-resistant flat grain beetle and prevent or delay further selection for resistance to phosphine.
Development of a rapid test to detect highly resistant FGB.
Facilitate continued market access of Australian grain.
Research implications:
The success of Australia's $7 billion grain industry depends on the maintenance of high standard in its post-harvest produce through effective pest management. The absence of detectable levels of insect infestation is such an important issue to world grain markets that to maintain its competitiveness in premium markets, Australia guarantees supply of an insect-free product. This strategy is enforced by Australian Quarantine and Inspection Service (AQIS) through the Exports (Grain) Regulation that specifies a 'nil tolerance for live insects' on all grain leaving the country. Nil tolerance for live insects is also the standard generally adopted by domestic buyers of grain.
The most cost-effective method to meet the Exports (Grain) Regulation is the application of chemicals to grain. Currently, the industry relies on a single fumigant, phosphine, because of an increasing sensitivity of grain markets to the presence of pesticide residues, the development of insecticide resistance to other chemical alternatives and the lack of practical alternatives. Phosphine has the enviable reputation for being relatively cheap, accepted as a residue-free treatment internationally and having flexibility in its application. Traditionally, the grain industry has managed resistance essentially by replacing redundant chemicals with new materials. Chemical treatments are favoured because available non-chemical methods, on the whole, are either significantly more expensive, less versatile, do not easily match grain-handling logistics, are less effective or require significant capital investment. Therefore, the chemical replacement strategy is no longer viable and at least for the medium term, the Australian grain industry will need to rely on phosphine for disinfestations of its stored commodities to meet the market demands.
The CRCNPB-supported FGB fumigation protocol development project has delivered two new fumigation protocols that can control highly resistant FGB populations. In addition, an eradication strategy has now been deployed that will eradicate infestations of phosphine-resistant FGB and prevent or delay further selection for resistance to phosphine and restrict their spread.
A direct implication of the research finding is that by extending the life of the effective use of phosphine, industry will avoid the use of contact pesticides for the time being. This will in turn avoid potential trade issues and save the industry from significant economic loss.
An independent cost-benefit analysis for this project by GRDC (Ross McLeod) has suggested that even if there are significant changes to key variables such as costs of fumigation, probability of success and volumes of grain treated with contact insecticide, prolonging the life of phosphine through development of new protocols will still result in substantial economic benefits.
Acknowledgements:
The research team expresses sincere thanks to farmers and the managers and field staff of GrainCorp, CBH and Viterra for their support and help for accessing storage sites for collection of insect samples and undertaking field trials. The team would also like to thank GRDC for their support throughout the research.
PROJECT LEADER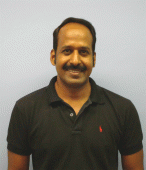 Dr Manoj Nayak
Project Leader CRC50098: Fumigation Protocols for Flat Grain Beetles
manoj.nayak@deedi.qld.gov.au
Phone:
07 3896 9431
Fax:
07 3896 9446
Read More
PROJECT DETAILS
Status
Complete
Term
July 2008 – December 2009
PROGRAM DETAILS
LOCATION
CORE CRC PARTICIPANTS