Nayak
Dr Manoj Nayak is a Senior Research Entomologist with the Food Protection Team of Queensland Department of Primary Industries and Fisheries. His main research interests include development of grain protectants, phosphine efficacy, resistance management and integrated pest management in processed food.
Manoj joined QPI&F in 1995 as a visiting scientist after immigrating from India. Prior to that he completed his tertiary degrees at Delhi University: a Masters in Zoology with specialisation in Entomology in 1988; a Master of Philosophy in 1989 researching the nutritional and reproductive physiology of the rice grasshopper; and a PhD in 1993 on ecology and epidemiology of several arthropod disease vectors. At QPI&F, Manoj started his research on psocids, which were emerging as new pests in the grain storages at the time and there were no management options available. By the early 2000, Manoj had established several chemical strategies to manage psocids and was also involved in developing such strategies in China and Vietnam through a collaborative ACIAR project. Over the last 13 years, he has also been involved in several Grains Research And Development Corporation projects both as a lead researcher and project leader.
Manoj's expertise on psocids and resistance management has earned him keynote invitations at international conferences such as the 9th International Working Conference on Stored Product Protection (Brazil, October 2006) and the XXIII International Congress of Entomology (South Africa, July 2008). In recognition of his sound publication profile and critical reviewing skills Manoj is frequently invited as a peer-reviewer to review research papers submitted for publications in several international journals including Journal of Stored Products Research, Journal of Economic Entomology, Pest Management Science, Journal of Applied Entomology, Pesticide Biochemistry and Physiology, Australian Journal of Entomology, Bulletin of Entomological Research and Environmental Entomology.
Manoj is a member of the Entomological Society of Australia (served as the Regional Councillor), Entomological Society of Queensland and Society of Chemical Industry (UK).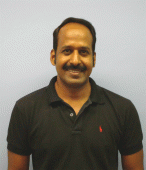 manoj.nayak@deedi.qld.gov.au
Phone
: 07 3896 9431
Fax
: 07 3896 9446
LOCATION