Daglish
Dr Greg Daglish is a Principal Research Scientist with Queensland Primary Industries and Fisheries (QPI&F) in the Queensland Department of Employment, Economic Development and Innovation. Greg's research with the CRCNPB will lead to better management of insect pests of stored grain through research on the ecology of key pests and improved phosphine fumigation of grain.


Greg has a strong interest in postharvest control technologies including the practical application of knowledge of resistance and insect ecology. He has been working in this field since 1988 and his experience includes field and laboratory evaluation of phosphine fumigation and grain protectants, genetics and fitness of phosphine resistance, and ecology of grain insects. He has led ten national and international projects for the Grains Research and Development Corporation, Australian Centre for International Agricultural Research, and recently the CRCNPB. Greg has been an active member of National Working Party on Grain Protection since 1999, including leadership of the grain protectants committee. Greg has published widely on stored grain entomology, and been invited to speak and chair sessions at conferences such as the International Working Conference on Stored Product Protection and the International Conference on Controlled Atmosphere and Fumigation in Stored Products. He has served on the editorial board of the Journal of Stored Products Research since 2005 and became Regional Editor (Australia and Asia) in 2007.


Greg is based in Brisbane.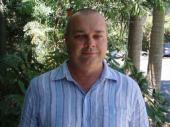 greg.daglish@deedi.qld.gov.au
Phone
: 07 3896 9415
Fax
: 07 3896 9446
LOCATION