Rodoni
Dr Brendan Rodoni has twenty five years experience as a plant virologist with a focus on the detection and epidemiology plant viruses of temperate and tropical crops. After completing his honours in plant virology in 1985, Brendan worked for six years with the Victorian Department of Primary Industries (DPI) managing plant certification programs for a number of horticultural industries including strawberries, potatoes and carnations. In 1991, he moved to the University of Technology, Lae, Papa New Guinea and lectured in Plant Pathology, Plant Biotechnology and Crop Science. Brendan Rodoni commenced his PhD as a full time student in 1994 at the Queensland University of Technology and worked on the characterisation and control of Banana bract mosaic virus.
In 1997, Brendan re-joined the Victorian DPI as a Plant Disease Diagnostician working in Crop Health Services unit based at DPI, Knoxfield. His research interests include the detection and characterisation of plant viruses and plant pathogenic bacteria, plant biosecurity, environmental microbiology and plant virus disease epidemiology. Currently, he leads a research and development team (eleven staff and students with a collective income of $2.5 million annually) that conduct research, manage pathogen tested schemes and provide a diagnostic service for the Australian horticultural industry.

Brendan is currently Project Leader for CRC40050 Post Entry Quarantine (phase one).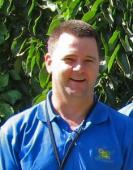 brendan.rodoni@dpi.vic.gov.au
Phone
: 03 9210 9264
Fax
: 03 9800 3521
LOCATION