Schlipalius
Dr. David Schlipalius began his PhD at the University of Queensland in 1999 on a GRDC scholarship studying the molecular genetics of phosphine resistance in the Lesser Grain Borer, Rhyzopertha dominica, and produced the first genetic linkage map of that beetle.
He has also spent a couple of years working on honeybee genomics as a postdoctoral researcher at Purdue University in Indiana, USA. He is listed as part of the Honeybee Genome Sequencing Consortium that published the Honeybee Genome Project and worked on the construction of a detailed genetic linkage map to help define genes involved in behaviour, including the stinging behaviour of Africanised ('killer') bees in the Americas.
Since then he has returned to Australia and the stored grains research field to complete the detailed genetic analysis of phosphine resistance.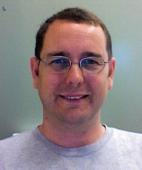 David.Schlipalius@deedi.qld.gov.au
Phone
: 07 3365 2516
Fax
: 07 3354 1655
LOCATION