Weiss
John Weiss has been involved with the control and management of invasive species for nearly 20 years. His work with the Victorian Department of Primary Industries (DPIVic) influenced the decision to undertake his PhD project Terrestrial Observation Predictive Systems and Emergency Plant Pest Incursion Management.
He was particularly attracted to the CRCNPB because of its focus on spatial temporal modelling and risk assessment.
John works at DPIVic's Frankston research centre and lives nearby at Seaford - one of Melbourne's bayside suburbs. He has a Labrador and a Blue Heeler Cross, who love walks on the beach. When he's not walking the dogs, John enjoys fishing, bushwalking and cycling around the Mornington Peninsula wineries.
In 2003 John and his partner Penny took long service leave and spent four months living in Bhutan as WWF volunteers, where he worked with the Ministry of Agriculture to develop a weed strategy.
John has visited Bhutan three times and his goal is to finish is PhD in three years and get back there, because according to him, the Bhutanese have Gross National Happiness as the main aim not Gross National Product!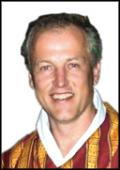 john.weiss@dpi.vic.gov.au
Phone
: 03 9785 0111
Fax
: 03 9785 2007
LOCATION