Woods
Bill Woods is a Senior Entomologist with the Department of Agriculture & Food Western Australia (DAFWA). He is part of a dedicated team who produce sterile Medfly for use in eradication and control of this serious pest. His research focus is on developing sustainable techniques to eradicate key exotic pests such as fruit flies and moths.
Bill's introduction to applied entomology was in 1974 when he worked on the control of cotton pests at Kununurra. The failure of the pesticide only approach led to a lifelong interest in integrated pest management and biological control. In 1983 Bill travelled to the United States where he spent 3 years in Texas, Arizona & Mexico collecting biological control agents for the woody weed Parkinsonia.
From 1987 to 1999 he worked on integrated control of pests of citrus, deciduous fruits and Australian native plants. During this period he was the entomologist for two successful eradication programs against codling moth. In 1999 he became involved in the use of the sterile insect technique against Medfly and more recently light brown apple moth. He has a BSC and MSC in Agriculture from the University of Western Australia.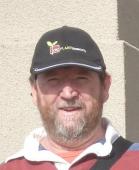 bwoods@agric.wa.gov.au
Phone
: 08 9368 3962
Fax
: 08 9368 3195
LOCATION